Lucas Cranach the Elder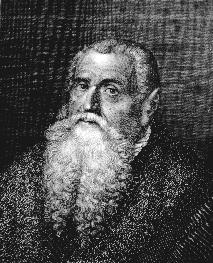 Lucas Cranach the Elder, an artist's son, was born in Cronach in Franconia in 1472. He spent 1501 to 1504 in Vienna beforecoming to Wittenberg as court painter to the Saxon Elector Friedrich the Wise. The latter made him a member of the nobility in 1508, presenting him with a coat of arms made of a winged snake. During that same year, Cranach traveled to the Netherlands at the request of his Elector.

Some two years later he married Barbara Brengbier, a daughter of the mayor of Gotha.
Cranach carried out extensive remodeling and building on his large house in Schloss Street 1 (only in German) during the following years. Lucas Cranach's workshop developed into an extremely versatile artistic manufacturing business.
His two sons Hans and Lucas (the younger) were born in 1513? and 1515. Both followed in their father's footsteps and became artists. Cranach's daughters Ursula and Barbara were born in 1517 and 1519. In 1520 Cranach acquired the apothecary's privilege; in that same year, Martin Luther was the Godfather of his daughter Anna. After 1523 Cranach had a printing press and later a book shop for a while as well. Lucas and Barbara Cranach were the witnesses to Martin Luther and Katharina von Bora's wedding, and Cranach was the Godfather of their first son Johannes.
Cranach was one of the most highly respected and richest citizens of Wittenberg. As such he was a member of Wittenberg's town council for numerous years and also held the office of mayor a number of times.
The death of his talented son Hans in Bologna in 1537 hit Cranach hard. Three years later his wife Barbara also died. In 1547 Cranach asked Emperor Charles V to have mercy on the imprisoned Elector John Friedrich. Cranach followed the pardoned Elector to Weimar in 1552, where he died in 1553 at the age of 81.
---
Brief Biography
1472 Born in Kronach, Upper Franconia
1502-1504 Cranach resides in Vienna. The Elector Frederick the Wise summons Cranach to Wittenberg as court painter.
1519 Cranach becomes a city councilman for the first time.
1525 Acting on his behalf as suitor, Cranach presents Luther's proposal of marriage to Katharina von Bora and is a witness at the wedding. See also Luthers marriage
1537 First tenure as Wittenberg's mayor
1551 Cranach moves to Innsbruck
1552 Cranach moves to Weimar
1553 On October 16, Cranach passes away in Weimar.
---
Further information at: www.cranach.de!>.
Wittenberg: Cranach Courtyards(only in German)