Legends about Luther: Emperor Karl at Luther's Grave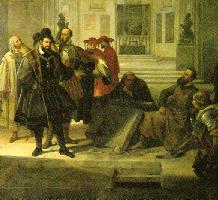 After the defeat of the protestants in the Smalkaldian War (1546-47) in the Battle near Mühlberg, the Imperial Army stood before Wittenberg's city gates and the Elector was forced to sign Wittenberg's surrender. In doing so, he gave over the city and abandoned his rights as elector.
The Emperor rode into the city on May 23, 1547 and lingered at the Castle Church grave of his great adversary, Luther.
This occurence has led to the emergence of numerous legends, none of which are historically factual. One legend states that while the Emperor was at Luther's open grave, he was urged to belatedly give the heretic's remains to the funeral pyre.
The Emperor is supposed to have answered: "He has met his judge. I only wage war with the living and not with the dead."
This report cannot be supported by facts. Johannes Bugenhagen, who left us with a detailed report of the rest of the Emperor's visit, did not mention anything about this incident.
Another legend states that Luther's corpse was removed and buried on a safe and little know spot before the approaching Imperial Army got to town.
Clarity was brought to the matter on February 14, 1892. On that day the grave in the Castle Church was opened: The grave which is found there is the Reformer's last resting place.