Martin Luther's Childhood and Youth (1483-1501)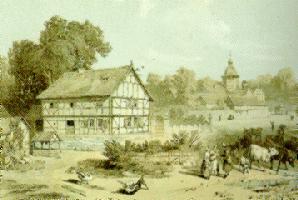 Martin Luther (born as Martin Luder, later he called himself Luther) was born on November 10, 1483 into an extremely tense world [related topics: birth house (only in German), The World in 1500]. Great changes were waiting around the corner, and Luther, too, would take his part in these changes.
Luther's father, a farmer's son, moved from Eisleben (only in German) to Mansfeld shortly after Luther's birth in 1484 to try to better the family's financial situation by mining copper. He was successful and already in 1491 the Luder's were one of the most respected families in Mansfeld.
Luther's mother, Margarete Luder, had many children to look after and was a harsh disciplinarian.
Martin attended the Latin school (Lateinschule) in Mansfeld where barbaric teaching methods of the Middle Ages still reigned. Luther had been described as a quiet, reserved yet talented student who was intimidated by the strict order.
In 1497, Luther went to <! href="http://www.uni-magdeburg.de/luther96/home.html">Magdeburg!> (only in German) where he attended the school 'Brother's for living together (a bording school; Bruder fuer Gemeinsamen Leben)' and then in 1498 went to Eisenach and lived with relatives. He was edcuated at the town's parish school in Eisenach.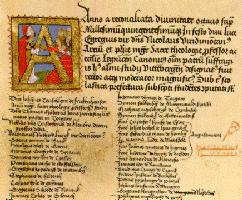 Financially it was possible for the Luther's to send their son Martin to the university in Erfurt in 1501. Hans Luther, Martin's father, hoped to help his son by sending him to law school so he could later be a lawyer and have a secure future.
Luther's Student Life Erfurt (1501-1505)
The University of Erfurt (only in German), founded in 1392 was one of the best German universities at this time (see also: Universities during Luther's time). This is most likely the reason Luther's father chose this university for his son.
During Luther's time, before one could study a specific field (Law, Medicine, Theology), you had to learn the 7 Liberal Arts. Luther did this, received his Baccaleureat (the first level at the university) in 1502 and then received his Master's degree in 1505. His father hoped that the law studies would go as well, and that his son would soon have a good position in a law practice somewhere.
Luther, as the legend goes, swore to become a monk on July 2, 1505 while he was caught in a terrible storm (see also: Legends about Luther: 'Lightning'). He did this, to his friends surprise who knew him as full of the joys of life and his parents anger; he entered the Mendicant order of the Augustinian monks in Erfurt.